In some cases, you can tell how somebody is being treated by their own boss from the way they are treating someone to whom they are a boss. Most times, The attitude of a boss towards a staff is activated by the character of that staff. Depending on your relationship status with your boss, finding a holiday gift for her may or may not be very easy. Nobody tells you how much to spend or what's technically "office-appropriate," but as long you have a general idea of her style and taste (and at the very least, a good working relationship), you can't go wrong.
1. Paravel Foldable Travel Duffle Bag

if your boss travels a lot, you are right on track with this paravel Foldable Travel Duffle Bag being the perfect bag. The featherlight Fold-Up zips into a compact pouch, making it the perfect bag for the modern traveler. Carry it to the gym, slide it over your wheeled luggage, or throw it in your carry-on as an extra bag for the trip home. most time, a suitcase is not enough to bear it all. Use the Paravel Travel Bag as a shopping bag, carry on bag, gym bag, work bag, or "rescue bag" to fit all of the extra shopping, souvenirs, or gifts for friends and family. Get this bag in your boss's best color as this bag is available in different colors.
2. Potential X FocusBuds Productivity-Boosting Earbuds

Here is the type of Earbuds that will captivate your boss. The potential X FocusBuds Productivity-Boosting Earbuds is a type that helps you focusing by the embedded biosensors that monitor your brain activity and remind you to refocus whenever you are distracted. With the world tech concentration, it is very easy to be distracted and difficult to focus back. FocusBuds provides real-time feedback — training your brain to concentrate and eliminate procrastination. Even if you are the market place trying to study, in a party or even distractions by your mobile phone, this Earbuds is a perfect solution for it. Moreover, it's also a powerful set of earbuds with noise isolation technology. Listen to your music wirelessly and without distractions or noise, while you dive deep in your work. With FocusBuds, there's just one option left which stays focusing!
ROYAL CRAFT WOOD Luxury Bathtub Caddy Tray

The fascinating thing about a female boss is that most of them tend to work extra hours to sit in position and also be ahead of others. Getting her a gift like ROYAL CRAFT WOOD Luxury Bathtub Caddy Tray sends a signal of support to her career and pleasure. This Unique Bathtub Caddy Is Made of the High-Quality Bamboo Wood and covered with a thin protective coat of lacquer. This bathtub caddy tray helps your boss enjoy her work comfortably when she takes her work home. The bathtub Caddy Tray with a Waterproof Book or Tablet Holder, Wine Glass Slots, Two Removable Trays for Bath and Spa Accessories, phone slot, candle spot, cup spot, and a silicon grip is designed to fit most of the bathtubs available in the market.
4. Grovemade Wool Felt Desk Pad
Help your boss work desk more attractive and give her a stylish way to cover her desk with this Grovemade Wool Felt Desk Pad. produced with 3mm thick premium merino wool, this pad is perfect for protecting your desk from scratches. When the Grovemade Desk Shelf and Desk Tray are used together, the small desk pad allows you to cross between your digital and analog work with ease. Simply slide the desk pad under the shelf, moving your digital tools out of the way to make space for a notebook or piece of scratch paper. Made from natural materials, and you can expect a variation in color and appearance. Made from natural materials, and you can expect a variation in color and appearance. mix up style and comfort.
Get It From The Official Website
5. V-TEX All-Season Nanotech Shoe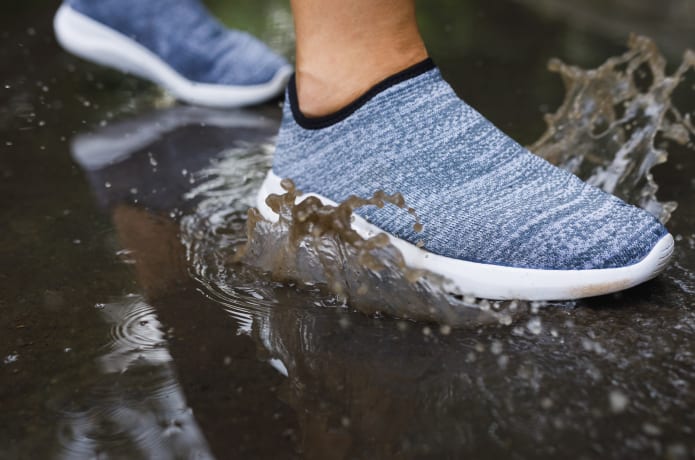 With the V-Tex All-Season Nanotech Shoes, you don't have to be mindful of the location, season, temperature and microbial activities going on down there because the V-Tex All-Season Nanotech Shoes proves about twelve unimaginable features such as WATERPROOF, BREATHABLE NANOTECHNOLOGY KNIT, SAND PROOF, STAIN PROOF, HEAT RESISTANT, 360 3D KNIT, ULTRA LIGHTWEIGHT, ULTRA COMFORTABLE CLOUD INSOLE, ANTI-BACTERIA, COLD RESISTANT, WINDPROOF, VEGAN-FRIENDLY. Having this shoe on you ones will make you practically shun any other sense of shoe, in addition, the sole of the shoe provides maximum flexibility for perfect balance. V-Tex All-Season Nanotech Shoes provides you with all the imaginable pleasure you can think of a shoe. This is not just footwear, it is a pack satisfaction and a gift your boss will definitely show gratitude for.
6. Logitech Ergo K860 Ergonomic Keyboard

The Logitech Ergo k860 Ergonomic keyboard is for someone that feels pain working for long on a keyboard. Make her work easy and convenient by presenting her this wonderful gift. Your fingers glide effortlessly across the matte surface of the keys, and tactile details make it easy to orient your fingers and stay focused. The split layout and convex curve promote a more natural hand and finger placement. KNITTED FABRIC with a durable, stain-resistant, and easy-clean coating that's smooth to the touch. And because it has a full-size keyboard, the Ergo K860 won't slow you down at all. In fact, it will help you make the most out of your time at your desk.
Get It From The Official Website
7. Joycuff Inspirational Bracelets

Gifts to the presenter might just be a present but to the receiver, it's more than that, even it could be a memory. Presenting this Joycuff Inspirational Bracelets to your female boss might be an event she has been craving for. Joycuffs are fully adjustable and flexible enough by bending to make it tighter or looser, as needed to fit most wrist size. To clean, wipe with a soft cloth. Avoid frequent contact with strong chemicals, such as detergent, shampoo, bleach, perfume, etc. Always remember to remove your rose gold and gold jewelry before shower or exercise. These bracelets come with an engraved message "she believed she could so she did" High polished cuff bracelet, shine surface, very smooth with rounded edges to avoid scratch your wrist, clear engraved easily reading. This is nice!
8. BOBBY Automated Baby Bouncer

One of the easiest ways to be distracted by a boss lady is if she has a new kid and have not gotten this BOBBY Automated Baby Bouncer. Let your boss fully focus on her job without the distraction of baby cries. BOBBY is designed to work with the natural oscillation of your baby's car seat to create a gentle rocking motion. Similar to being held by mom or dad. It works by pushing the curved seat in a steady upward motion based on the weight of your baby. This consistent motion is guaranteed to keep your baby calm and helps him or her relax or fall asleep more easily. The rechargeable battery lasts for seven or more hours, and you can even charge it on your phone. All you need do is press the on/off button. BOBBY's LED lights will start to blink, Position BOBBY under your baby car seat (either in front or on the back), Swing your baby car seat down by pressing BOBBY's pusher and letting go and you are good to go. Yes, it is as easy as that!
9. Dyson Lightcycle Morph Adaptable Intelligent Lighting

spending time at work is important, but the atmosphere at work determines how well you work. The Dyson light cycle morph adaptable intelligent lighting is it! This smart lighting collection tracks the time of day to mimic outdoor lighting, helping you enjoy a natural cycle throughout the day. With a gentle touch, the optical head docks into the stem, creating a comforting glow for evening relaxation. Dimming and color temperature controls let you define your personal light preferences. The Lightcycle Morph collection—which includes a floor and desk model—uses other information to mimic outside light. Connecting to the app over Bluetooth, the lamps know your geolocation, the time of year, and the time of day. So even if it's cloudy, you'll have bright light indoors. you can also set it to automatically on and off at preference.
Get It From The Official Website
10. Riedel Bliss Crystal Wine Decanter

Make it look less official (only presentable depending on your relationship with your boss). A simple way to make great occasions even more elegant and extravagant! Its extraordinarily beautiful shape thrills people all around the world. Every piece is unique and made by hand from crystal glass. With a heart-shaped handle, this decanter suits both red and white wines. And it's an especially romantic decanter, as the heart is prominent in the design. Plus, it's about 14 inches tall, making this red wine decanter a striking centerpiece. this is an amazing gift that makes almost all female melt.